Monday, March 30th, 2009
The principles of "causality" and "boundary conditions" are fundamental to modern science, and when you apply these principles to the system of human energy production/consumption it tends to lead to thoughts of TeraWatt Challenges and limiting demand. Raw energy limits need not equate with lifestyle limits, if new technologies allow us to be far more efficient with our natural abundance of resources. However, needed changes require global support, so hundreds of millions of people around the world joined in a symbolic gesture by turning off their lights for one hour March 28th.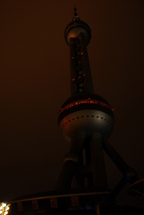 World Wildlife Fund (WWF), the world's largest multinational conservation organi- zation, organized "Earth Hour" to be observed by switching off all of your electric lights for one hour starting at 8:30pm (20:30-21:30) in your local time zone. Though not reaching the goal of 1 billion people, the organizers claimed that it was observed in more than 3,900 cities in 88 countries, with promotional help from sponsors including Hewlett-Packard. Lights were out at the Golden Gate Bridge in San Francisco, the U.N. building in New York City, the pyramids in Egypt, the Beijing Oympics stadiums, and the Oriental Pearl Tower in Shanghai (see figure).
Earth Hour was celebrated as it cascaded through the world's time zones. Individuals, villages, towns, major cities, organizations and corporations, and the world's most recognizable landmarks, all united in a truly global effort. BetaSights headquarters turned off the electric lights and lit a few candles.
"As the world witnessed Saturday night, the simple action of turning off lights can inspire people around the world to take action, and to make a serious long-term commitment to living more sustainable lives," said WWF President and CEO Carter S. Roberts. "On behalf of WWF, I want to thank all participants for making Earth Hour a truly memorable hour for the entire planet." We can all act to be more energy efficient, more carbon neutral, and more globally responsible. More on energy technology and efficiency in the BetaSights Newsletter. –E.K.
Tags: PV