Friday, July 10th, 2009
Intersolar North America 2009, co-located with SEMICON West in San Francisco next week, will include a Solar Startups Forum on July 16 to showcase some new technologies that are now in beta tests in the field. Select companies will make in depth presentations and offer insight into the atmosphere and environment of the solar industry from the perspective of a new company "breaking in." Intersolar programs and events have been set to serve the diverse interests of investors, technologists, executives, government representatives, analysts and journalists, as well as those looking to get into the solar industry.
The recent U.S. Stimulus Package, intended to spur the development of the renewables sector, is sure to create plenty of interest in new business ventures. The Solar Startups Forum features presentations from companies who have recently broken into the solar industry with the aim of exchanging their experiences, obstacles encountered, and success stories with attendees.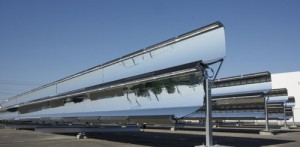 Skyline Solar CEO Dr. Bob MacDonald will discuss the company's patented CPV architecture. As covered in detail over at PV-Tech, Skyline Solar uses curved mirror arrays and one-axis tracking (see figure) to hit a claimed sweet spot of cost:energy-output for municipal arrays ranging from 50-100 kilowatts up through many megawatts. The company's first installation is near it's HQ in Silicon Valley at a Santa Clara Valley Transportation Authority bus maintenance facility.
The next level up in complexity and energy density is dual-axis tracking for 500x CPV using multi-layer-epitaxial compound semiconductor cells with efficiencies >35%. This is the technology used by Soliant Energy, and company CEO Marco DeMiroz will talk about installations on rooftops and large areas to create virtual grids for municipalities.
Chasing the world leader in CdTe is PrimeStar Solar. PrimeStar Solar is developing US NREL CdTe IP with GE money. The company has highly experienced teams working on custom thin-film deposition tooling to build it's own line. Brian R. Murphy, PrimeStar Chairman, CEO and Founder, will talk about the company's 60 cm x 120 cm frameless glass-glass photovoltaic (PV) module that is optimized for use in large scale grid connected installations.
Thinking big picture about materials basics, the founders and leaders of 1366 Technologies have decided that silicon is the only material that is cheap and plentiful enough to be able to make a difference in world energy. Craig Lund, Director of Business Development, 1366 Technologies, will give a talk about, "Enabling TeraWatt Photovoltaics" using multi-crystalline silicon (mc-Si) manufacturing and assembly technologies that aim to reach $1/Wp by 2012. –E.K.