Thursday, July 30th, 2009
Evergreen Solar, the manufacturer of "String Ribbon" solar power products, announced it has finalized agreements with Jiawei Solarchina and the Wuhan government's Hubei Science & Technology Investment Co., Ltd. ("HSTIC") for the setup and operation of a new 100MW mc-Si panel fab. Factory construction has begun and the parties expect that wafer, cell, and panel production will begin in the spring of 2010. The parties currently intend to expand production capacity of their respective manufacturing operations to ~500MW by 2012, though the timing and extent of any potential expansion will be reset in 2010.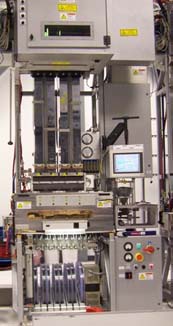 Evergreen Solar will manufacture String Ribbon wafers using its newest Quad furnaces (see figure) that grow four 3.2-inch (80mm) wide strips of mc-Si at a time. Long high-temperature filaments unwind from spools, run through molten silicon, and pull a long 190µm thin strip of silicon out of the melt. The wafer strip is then cut into smaller pieces for further processing into solar cells, such that just 2g/W of Si is used.
Evergreen Solar in Wuhan will be in a leased facility being built by Jiawei in Wuhan, China on Jiawei's campus, as part of a complex set of financial arangements:
* Jiawei will convert the String Ribbon wafers into Evergreen Solar-branded panels on a contract manufacturing basis.
* Evergreen Solar will reimburse Jiawei for its cell and panel conversion costs, plus a contract manufacturing fee. The actual price paid to Jiawei will be negotiated annually.
* Evergreen Solar will invest $17 million in cash and equipment in the Wuhan String Ribbon operation. HSTIC will provide Evergreen Solar $33 million of 7.5% financing, which Evergreen Solar must repay no later than July 2014. Jiawei will make a similar investment for its cell and panel operations with the support of HSTIC.
* Evergreen Solar and Dynamic Green Energy, Ltd, Jiawei's parent company, have agreed to exchange warrants representing 1% of their outstanding shares. These warrants will have a five-year term and may be exercised for 20% of the warrant shares for each incremental 95 MW of production capacity achieved.
"Our String Ribbon wafer technology, combined with Jiawei's low-cost manufacturing capabilities, should enable our products to stand out distinctly among customers seeking both value and dependability for their solar energy solutions," commented Richard M. Feldt, Chairman, President and CEO. "As we reach the 25 MW quarterly capacity by the end of 2010, we expect total manufacturing costs of our String Ribbon panels produced in China to be in the range of $1.40 per watt to $1.50 per watt with both companies working aggressively to further improve technological performance as well as reduce manufacturing costs. Our mutual goal is to drive conversion efficiency and manufacturing performance so that panels are produced at the $1.00 per watt level by no later than 2012."
Proof of the company's ability to deliver is in the latest financial results including news that the flagship Devens, Massachusetts fab shipped 23.2 MW of products at an average price of $2.70/W in the second quarter of 2009, which is a 34% volume improvement on the 17.4 MW sold at $3.13 in the first quarter of the year. "We continue to ramp our production at Devens in line with market demand," stated Richard M. Feldt, Chairman, CEO and President. "The momentum we are building keeps us on track to achieve our $2.00 per watt goal when Devens reaches its 40 MW of quarterly capacity. Additionally, we are now identifying cost improvement programs that we believe will gradually take us to about $1.50 per watt at full factory capacity in the next two years." Revenues for the second quarter of 2009 were $63.8 million, compared to $55.8 million for the first quarter of 2009, and $22.8 million for the second quarter of 2008. –E.K.