Friday, February 20th, 2009
As computational lithography has become big big business, the pioneering enterprises have been assimilated into larger organizations (KLA-Tencor for Finle and Synopsys for Sigma-C, to name two examples). Panoramic Technology, however, continues its independence, supplying trustworthy and up-to-date simulators to advanced lithographers for a decade. Past Panoramic products, however, employed an interface that was familiar to users of SPLAT and TEMPEST at the University of California, Berkeley, but seemed difficult to those who had not grown up with it.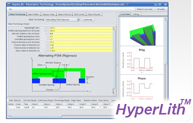 Now, with the new HyperLith simulator, Panoramic believes that that it has created the most easy-to-use and intuitive lithography simulator interface available. Tom Pistor, president and CEO of Panoramic claims even a casual or occasional user can set up a simulation in a few minutes and begin generating accurate and meaningful results. Both the setup GUI (see figure) and the presentation of the simulation output are comprehensive and intuitive, according to Pistor.
True to its roots, the new tool sacrifices nothing in terms of speed, power and flexibility:
*EUV, DUV, immersion capability,
*Kirchhoff or rigorous/TEMPEST mask modeling options,
*Full-vector aerial imaging with polarization control,
*DAIM, or physics-based resist modeling,
*Powerful post-processing, analysis and measurement tools,
*Powerful batching capabilities,
*Distributed computing/parallel processing with SimRunner,
*Full cross-platform compatibility (32/64 bit Windows XP, Vista, Linux), and
*Hardware acceleration available.
Panoramic claims to be selling HyperLith at a fraction of the price of comparable products, maintaining the valued tradition of making computational lithography accessible to individuals, small companies and students. Since the Panoramic simulator stands alone – and is not optimized for any OPC package or style – it can be used as a standard against which faster, but less rigorous algorithms from different vendors can be tested. -M.D.L.